As 2020 comes to an end, Culture Works reflects on both the challenges and the achievements of the past year.
Our 2019-2020 fiscal year began with the launch of artsDEEP (Dayton Education Exploration Portal)–a new online resource designed to connect K-12 teachers, parents, and school administrators to world-class arts education programming provided by Dayton Region arts organizations and individual artists. In January 2020, we celebrated the work of 17 incredible artists who were selected to receive Artist Opportunity Grants to build their artistic careers over the course of the year. In February, we launched the Special Projects Grant program–a new program funded by the Montgomery County Arts & Cultural District (MCACD) that empowers local nonprofits, schools, government agencies, and grassroots organizations to engage our community through arts and cultural projects. Then, in March, we watched as the lights dimmed in galleries, theatres, and concert halls in the face of a new global crisis.
Even as the COVID-19 pandemic has re-shaped our field and our world over the past eight months, the Dayton Region has continued to come together to fight for the future of the arts. We present the 2019-2020 Culture Works Annual Report with deep appreciation for the many individuals, companies, and foundations who have supported our efforts to create a Dayton Region united by, driven by, and inspired by the arts.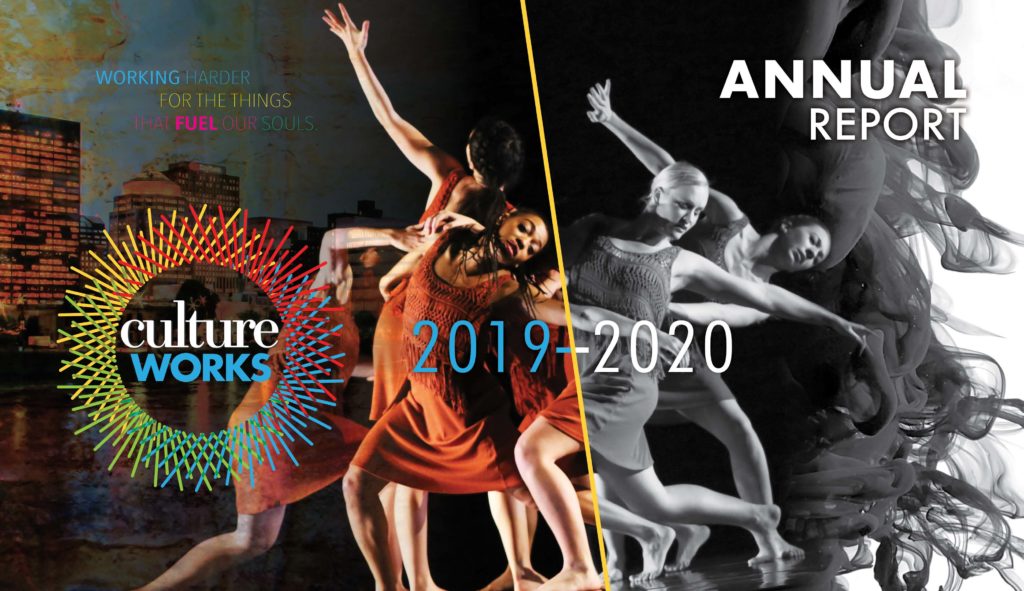 We also wish to thank the many donors, volunteers, artists, and passionate arts advocates who joined us for our Annual Meeting on Thursday, November 12, 2020. You can view a recording of the meeting below.