Congratulations to the 17 Montgomery County artists awarded Artist Opportunity Grants for 2020!
The Artist Opportunity Grant program, which is funded by the Montgomery County Arts and Cultural District (MCACD) and administered by Culture Works, provides funding for Montgomery County artists of all disciplines to pursue professional development opportunities and complete new works. Applications for funding are reviewed by an independent panel of artists, arts administrators, educators, and community leaders.
Based on the recommendations of the 2019-20 grant panel, 17 local artists will receive grants totaling $39,336 in 2020–the largest amount ever awarded through the program.
On behalf of Culture Works and the MCACD, congratulations to these outstanding artists. Read about their upcoming projects below, and follow Culture Works on Facebook to keep up with announcements throughout the year regarding performances, exhibitions, workshops, and other opportunities to engage with their work!
Leroy Bean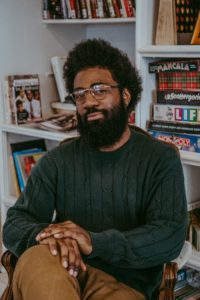 Opportunity: Travel to France for the 2020 Conference on James Baldwin for academics, artists, and activists celebrating the 50th anniversary of Baldwin's arrival in Saint-Paul de Vence. Bean will be engaged in scholarly exploration of all things Baldwin and social justice, developing his skills in creative writing under the facilitation of Cornelius Eady, a co-founder of Cave Canem.
About the Artist: Leroy Bean is a spoken word poet, published author, and co-founder of Underdog Academy and Baldwin Café from Dayton, Ohio. An artist activist, he uses his gift to describe different aspects of beauty and life that all can relate to, but also to speak truth about racially charged, social and political issues. He has shared stages with accomplished artists such as Sierra Leone, HBO Def poet Black Ice, Sunny Patterson, and Bing Davis and has performed in many venues, including the PNC Arts Annex, Levitt Pavilion, Schuster Center, and Victoria Theatre.
Artist Statement: "Currently I am diving deeper into being a teaching artist, and I have launched my online writing workshop for writers of all kinds to learn communication skills, emotional intelligence, critical thinking, creativity, how to apply literary devices, using writing as a tool of personal wellness, and more! I am also currently working between three poetry book ideas, all of which I am keeping in mind during my trip to France, and I hope to find a residency to be the resource of time, space, and funding I need to manifest either one or all of these projects in 2020."
---
Curtis Bowman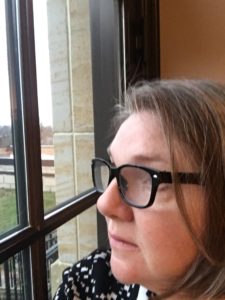 Opportunity: Attend the Algonkian Writers Retreat for five days of intensive work with established authors on a work in progress.
Artist Statement: "I have been a storyteller all my life, but up to now, most of my writing has been in service of a goal: selling something, recruiting volunteers, to make people laugh at a conference or to teach people at a workshop. Recently, I have been inspired to tell a larger story."
---
Caitlin Cartwright
Opportunity: Create a body of work, an interactive workshop, and a gallery show inspired by the events in Dayton, Ohio, in the summer of 2019 focusing on the healing and resilience of our community.
About the Artist: Caitlin Cartwright is a social change artist whose vibrant narrative works combine painting, drawing, and collage to explore the stories that connect people across cultures. Although her intimate works deal with themes of loss and isolation, each piece contains elements of community, comfort, and hope. Many years spent living and working with vulnerable populations in locales such as Madagascar, Namibia, India, and elsewhere influence both the emotional and geographical scope of her pieces. Caitlin earned her BFA from Maryland Institute College of Art, as well as a masters degree in sustainable international development from SIT, and completed a six-moth residency at the Pocosin Arts School of Fine Craft in Columbia, NC. In combination with a long career in global health, she uses art as a storytelling tool for economic empowerment, peace building, and healing and wellness. Caitlin is currently based in Dayton, where she is the Director of Programming at We Care Arts. Her works and collaborative projects continue to be shown both nationally and abroad.
---
Janyce Denise Glasper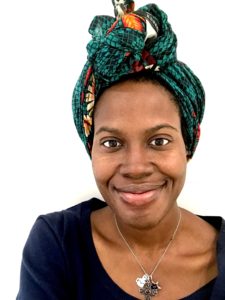 Opportunity: Create "Black Women Writers A-Z," a new body of large-scale paintings that depict past and present women writers of African descent having social gatherings much similar to classic literary salons and Harlem rent parties. These works–which will feature authors such as Toni Morrison and Helen Oyeyemi and poets such as Ntozake Shange and Upile Chisala–will be displayed at the Dayton Metro Library Main Branch gallery in August/September 2020.
About the Artist: Janyce Denise Glasper is a multidisciplinary artist, writer, and independent scholar. She has a BFA in drawing from the Art Academy of Cincinnati and post baccalaureate and MFA from the Pennsylvania Academy of the Fine Arts.
Artist Statement: "Through the disciplines of figurative drawing, painting, and writing, my artistic practices emphasize the collective beauty in the Black experience, especially in womanism, a term coined by Alice Walker. My primary goal is to continue dismantling the stereotypical perception of Black bodies."
jdglasper.wixsite.com/artist-cv
---
Sam Kelly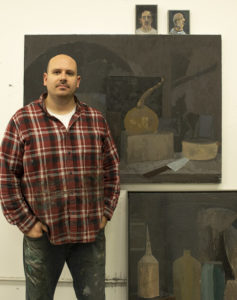 Opportunity: Travel to the New York Studio School of Drawing, Painting and Sculpture in New York, NY, to attend the Drawing Marathon and study under acclaimed artist Graham Nickson.
About the Artist: Sam Kelly is an artist currently residing in Dayton, Ohio. He earned a BFA in painting from Wright State University and an MFA in painting from the University of Massachusetts Dartmouth. He also attended the Chautauqua School of Art. Sam is a member of the Dayton Society of Artists, The Contemporary Dayton, and the Dutoit Gallery. He has exhibited his work both nationally and internationally. Sam has taught at many institutions, including the University of Massachusetts Dartmouth, University of Cincinnati, Wright State University, University of Dayton and Indiana University East.
Sam's work expresses a raw and energetic approach. He is interested in the relationship that exists between abstraction and representation. As an artist, he continues to pursue the ability to invoke a painting and drawing with authenticity and intensity for maximum engagement.
---
Kelsey Lee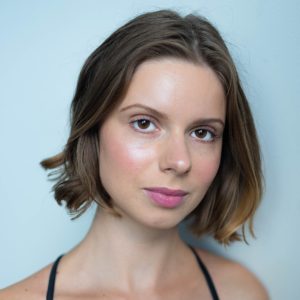 Opportunity: Travel to Stolzenhagen, Germany to attend Ponderosa's Winter Artist Exchange residency, which will guide and nourish the development of a new, solo dance performance.
About the Artist: Kelsey Lee is an interdisciplinary artist who holds a BFA degree in Contemporary Dance Performance and Choreography with a double major in Psychology from University of Wisconsin-Milwaukee. Lee fuses her trainings in ballet, contemporary dance styles, and theatre with the intention of generating empathy in an accessible and mindful approach through performance and education.
---
Josh Merritt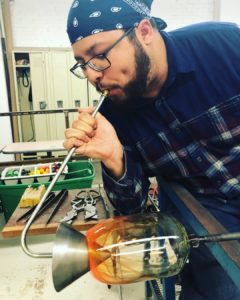 Opportunity: Attend the 2020 Glass Art Society Annual Conference in Smaland, Sweden to study new techniques and technological advances in glass blowing.
Artist Statement: "I began blowing glass in 2009 as an apprentice. I studied, created, and now enjoy teaching numerous glass art techniques, including vessels, ornaments, flowers and more.
In 2016, I moved to Columbus and enrolled at The Ohio State University. At OSU's glass program, I continued to develop my skill and passion for glassblowing. I also expanded into other areas such as stained glass, fusing, engraving and sandblasting.
The magic of glass never ceases to amaze me: the challenge of creating an intricate glass piece; the delicate balance of heating and cooling at different times and stages; the planning and teamwork required for success. It all comes together into an intense moment from which either fine art or floor shards are created."
---
Hyacinth Paul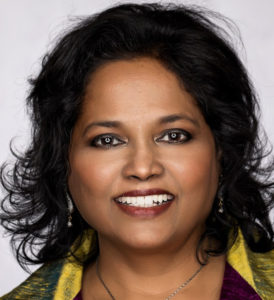 Opportunity: Attend a seven-day plein air painting workshop in Provence and a four-day art tour in Barcelona with Dr. Yves M. Larocque (Ph.D.)–an art instructor, art theoretician, art historian, and artist–to learn the essential skill of painting plein air and to increase her knowledge of art by visiting museums with an art historian.
About the Artist: Dr. Hyacinth Paul is a retired scientist and Professor who recently started her career as an artist. Within the last year, Dr. Paul has exhibited in more than 10 solo/group exhibitions, as well as donated and sold her paintings. She currently showcases her work at Front street gallery in Dayton, Ohio, and has a significant online presence.
Artist Statement: "My work is both abstract and realistic, mostly done in oil, acrylics, and mixed media. My paintings are very colorful because I believe that color sparks synesthesia and involuntarily evokes feelings of joy. I look forward to improving my work as an artist and delving deeper into the question of whether color plays a role in uplifting the general well-being of individuals and thereby alleviating depression."
fineartamerica.com/profiles/hyacinth-paul
---
Jonathan Pincus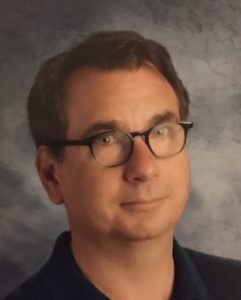 Opportunity: Create an exhibition of new, original oil paintings reimagining Norman Rockwell's four freedoms paintings that will be exhibited in conjunction with Peace Dayton 2020 to promote community, thoughtful dialogue, mutual understanding, healing, peace, civil engagement, and civic discourse.
About the Artist: Jonathan Pincus, MFA, is the Artist-in-Residence at the Wright State University Boonshoft School of Medicine. An artist and educator, he divides his time between his professional studio art practice, based at Front Street Studios, and teaching at Wright State and the University of Dayton.
---
Sarah Robertson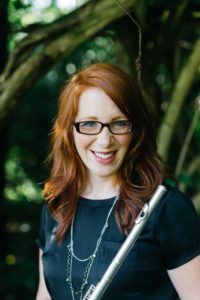 Opportunity: Travel to Pittsburgh, PA to attend the Kinderflute+Blockiflute certification course, which is considered by flute teachers as one of the ideal methods to teach young children flute. The unique method is designed to help flute students find and establish their innate potential as musicians and human beings. Through learning to listen, fingering their notes, producing a beautiful tone, reading music, composing, and creatively expressing themselves, students are firing areas of the brain to make learning in all areas more productive.
About the Artist: Sarah Robertson holds a Bachelor of Music in Flute Performance from Indiana University of South Bend and a Master of Music in Music Education from Wright State University. She has over 15 years of professional experience as a performer, conductor, freelance musician, solo and ensemble adjudicator, and music educator. Presently, along with operating her private studio, she teaches Kindermusik, subs in local ensembles, and performs with the Springboro Wind Symphony and with her flute trio, Ama la Vita.

Artist Statement: "I am a flutist who is just as passionate about music education as I am about performing, and I am so excited to bring that passion to the young children of Dayton! As a Kindermusik teacher, I thrive on instilling a love for music in the youngest of music makers and I cannot wait to do so through Kinderflute as well!"
---
Yetunde Rodriguez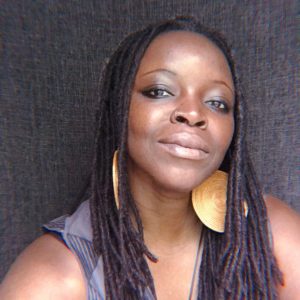 Opportunity: Study with the artist Amira Rahim through her intensive eight-week painting e-course in order to develop skills to transition block prints into strong collectible paintings.
About the Artist: Yetunde Rodriguez is a textile artist and designer with a focus on block printing. Yetunde taps into her Nigerian heritage for inspiration. She creates bold, meaningful images interpreted in a joyful celebration of color.
Yetunde has a background in graphic design, with a BA from Hampton University. She has done a little bit of a lot over the years. She has taught both young and old, with the firm belief that when you teach, you learn.
She continues to teach, partnering with local arts organizations and public libraries to lead workshops and give presentations. She is passionate about empowering youth to see the possibilities in using creativity to shape their future and achieve their goals. Yetunde aims to leave her mark wherever she goes, and she believes that life can be made just a little more interesting with a few simple materials, some simple shapes, and fun colors!

---
Kate Huser Santucci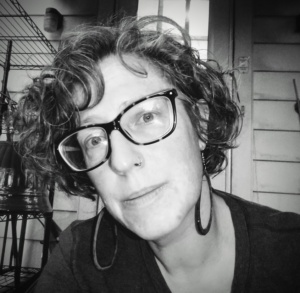 Opportunity: Travel to Seattle to attend a studio workshop with encaustic artist Alicia Tormey, where participants will learn new techniques, work on professional marketing and the business of being an artist, learn how to ship encaustic paintings, and continue to develop their personal voices as encaustic painters.
About the Artist: Kate Huser Santucci graduated from Wright State University with a BFA in visual art, concentrating in sculpture. She now primarily works in mixed-media encaustic painting, using beeswax and pigments to create multi-layered images that reference her interest in the natural sciences.
Artist Statement: "In my current body of work, I use mixed-media encaustic painting techniques to explore themes such as time–both on a cosmic and human scale–communication outside of the human sphere, and the way things change, both for people during a single lifetime and for the universe we are in. I often use images of microbes, plants, animals, bones, and water to tell the story of the way we change and evolve. The work involves multiple layers and textures, inviting the viewer to look deeper into the piece and glimpse imagery floating beneath the surface of the wax."
---
Jesseca Ynez Simmons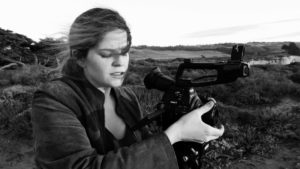 Opportunity: Travel to New York City and Los Angeles to conduct on-camera interviews with four crucial interview subjects for "We Will Not Turn To Stone"–a feature-length hybrid documentary that re-conceptualizes Medusa, one of the most infamous mythic females of all time, through a non-patriarchal lens. Too quick to decapitate, too fearful of turning to stone, we finally look up to meet Medusa's gaze. 
About the Artist: Jesseca Ynez Simmons is a documentary filmmaker and has a special interest in hybridization. She is currently an Assistant Professor of Media Production at the University of Dayton and a Sustainability Scholar for the Hanley Sustainability Institute.
Artist Statement: "I create documentaries that explore the superimposed realm of reality and fantasy; what one experiences with both open and closed eyes. By letting the explicit factual and imaginative qualities of a story graze on the same plane, it is possible to gain something more than if they were treated separately. I aspire to push these boundaries by letting narrative and experimental techniques of cinema bleed into my documentary films."
---
A. Slate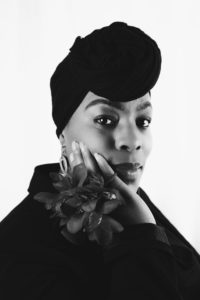 Opportunity: Stage a one-woman show that brings Lifelines and Legacies–an autobiography of short stories and poetry–to life in a dramatic, theatrical way.
About the Artist: A. Slate is a poet, spoken word artist, actress, and founder of The WRITElife Village Organization- where young people can express themselves, creatively, without judgment, bias, or fear through poetry.
Artist Statement: "In this one-woman show, where life is a poem and everyone is writing, telling stories of triumph, grace, gratitude and love, I am inviting you into the worlds that I have created for myself as a single mother, high school dropout, and young grandmother suffering from mental illness. Now standing before the world whole and grateful, finding reasons to give thanks for it all. Healing is a process. Grace refines."
---
Jude Walsh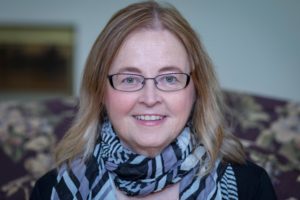 Opportunity: Enroll in the Write Your Memoir in Six Months intensive mentoring experience to expand her craft from personal essay (short) to memoir (book length).
About the Artist: Jude Walsh began submitting her personal essays for publication in 2016. Her writing has been published in numerous literary magazines and anthologies, including several volumes of Chicken Soup for the Soul. As a Creativity and Mindset life coach, her work has been featured in Inside Creativity Coaching: 40 Inspiring Case Studies from Around the World. She teaches Writing Mindset and Legacy Writing classes. Jude travels frequently, writes daily, and is active in the literary community.
---
Eric Wright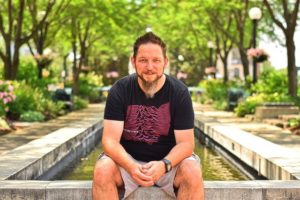 Opportunity: Travel to London, England to study photographic technique from one of the preeminent street and portrait photographers, Alan Schaller.
About the Artist: Eric Wright grew up in Dayton and found photography as an artistic outlet while in high school. Life took him away from it for awhile, but now it is one of the deepest passions in his life.
Artist Statement: "Learning and growing as an artist is something I am always working on; adding new skills and approaches and then giving them time to gel in new ways in my work. This year, I am looking forward to working on my street photography along with my black and white photography skills in both digital and film so I can deepen my understanding of people going about their daily lives."
---
Micah Zavacky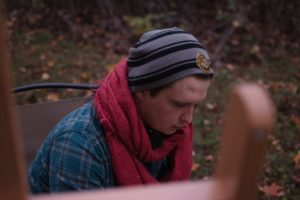 Opportunity: Frame recent work and create additional work for two upcoming solo exhibitions at Front Street – Dutoit Gallery in April and the Wright State University Alumni Gallery in May.
About the Artist: Micah Zavacky grew up in Dayton, Ohio, where he attended Wright State University, completing a BFA in Studio Art in 2014. After completing his MFA in Studio Art at Illinois State University, Micah returned home and has been teaching at the University of Dayton since 2018 and continuing his artistic practice.
Artist Statement: "I am indebted to early ventures with en plein air painting because it instilled a reverence, love, and dedication to the natural world. Primarily, my work represents plant forms, gardens, and landscapes (woods, river-views, and meadows). My practice has pushed me to become an avid gardener, composter, and builder; in turn, these activities have deepened my understanding and commitment to my artwork and the earth."
---