Coming Soon: The 2018-2019 Guide to Arts & Culture in the Dayton Region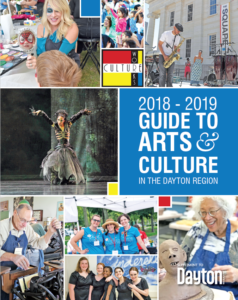 This year's issue of the Guide to Arts & Culture in the Dayton Region features more than 180 arts and cultural organizations, plus festivals, event highlights, and exciting new developments in our community's arts and culture scene. Whether you love dance, theatre, history, or literature, if you love arts and culture, the Guide

 can help you find your next Dayton Region arts experience.
Want to get a copy?
You can get your hands on the new Guide starting in mid-September 2018. A digital version will be available here.
Prefer paper? Free copies of the Guide will be available at the Culture Works office in downtown Dayton and at numerous cultural interest points around the Dayton Region. Check back soon for a list of distribution sites.
Culture Works has partnered with Dayton Magazine for the 2018-2019 Guide to Arts & Culture in the Dayton Region, so Dayton Magazine subscribers will receive a free copy of the Guide bundled with the October/November issue.
Explore the Dayton Region's arts and cultural opportunities!
We provide updated listings of all the information we have in the printed version of this publication here on our website. Things change throughout the year – performance times and dates, locations, and contact information for the cultural groups – so check the listings below for the most current information.
---
---
Are you an arts organization that needs to update your contact information or make other changes to your Guide listing? Would you like your organization to be added to the listings? Contact Culture Works and we'll make the changes on our website, as well as in next year's printed publication.
Organizations listed in the Guide must operate within Butler, Clark, Darke, Greene, Miami, Montgomery, Preble or Warren County. Preference is given to organizations with 501(c)(3) status.