14 Montgomery County artists awarded 2021 Artist Opportunity Grants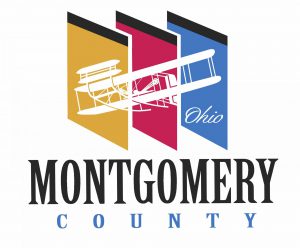 The Artist Opportunity Grant program, which is funded by the Montgomery County Arts and Cultural District (MCACD) and administered by Culture Works, empowers local artists to create new works and build their knowledge and skills through professional development opportunities such as workshops, residencies, and apprenticeships. Grant recipients are selected through a competitive process by an independent panel of artists, arts administrators, educators, and community leaders who evaluate each project's potential impact on the artist's career, potential impact on the community, and feasibility.
After reviewing applications from many outstanding candidates, the 2020-21 grant panel has awarded grants totaling $37,451 to 14 local artists to create immersive art installations, original music, virtual theatre productions, and more in the coming year.
Learn more about the artists and their projects below, and follow Culture Works on Facebook for updates regarding exhibitions, special events, and other opportunities to engage with their work throughout 2021!
Ginny Baughman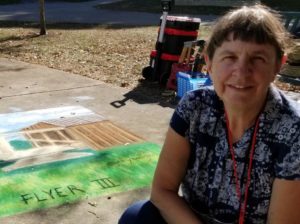 Opportunity: Create drawings of Dayton landmarks and develop a series of coloring books celebrating local history.
About the Artist: Ginny Baughman is a freelance artist who uses a variety of different media—including drawing, painting, chalk drawing, cut paper, and mixed media—to create both traditional and contemporary artwork. Born and raised in Dayton, she has a BFA from the University of Dayton and an MA from The Ohio State University. Ginny began her art career in central Ohio doing traditional renderings of local landmarks and then moved into contemporary artwork. Two years ago, she moved back to the Dayton area. Her work has been featured in many shows both locally and nationally, and she is looking forward to sharing her traditional artwork with her hometown through this project.
---
Cecilia Brendel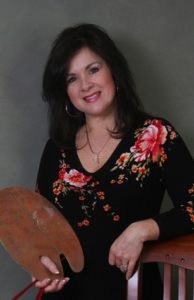 Opportunity: Complete a mentorship program with a grand master in order to further her skills in portrait and figure painting.
About the Artist: Cecilia's professional art career took a turn from illustration art to oil painting 25 years ago. Since then, she has developed her skills by studying classical techniques combined with modern color theory to complement her own representational style. She currently serves as a resident artist at Olde Masters Galleria, where she helps to keep traditional oil painting techniques alive through workshops, private lessons, mentorships, commissions, and personal artistry.
---
Zachary Collopy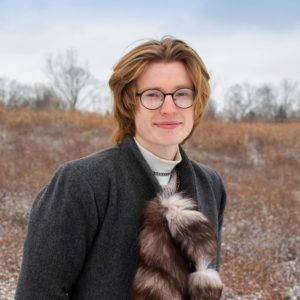 Opportunity: Create an immersive art installation in the EDU Gallery at Front Street Studios using photographs, sculptures, and ceramics.
Artist Statement: "My hope is to create art that grows our collective ability to observe and cherish non-human life in our immediate surroundings."
---
Charity Farrell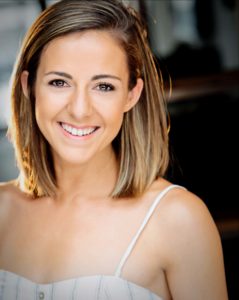 Opportunity: Produce and direct the virtual premiere of "The Drowsy Chaperone," collaborating with artists and musicians from the tri-state area and across the world.
About the Artist: Charity Farrell has been traveling the world performing professionally for the last decade. Having recently moved back to her hometown of Dayton, Ohio, she hopes to bring the lessons she learned to the local community via Virtual Venue.
---
Leesa Haapapuro
Opportunity: Collaborate with members of the community to build a temporary site-specific art installation entitled "Bridges" at the main branch of the Dayton Metro Library.
About the Artist: "Leesa Haapapuro is known for the way she gets people to create art while also creating a greater sense of community," said Bill Franz, author of Dayton at Work and Play. Haapapuro recently worked with the Kennedy Heights Arts Center in Cincinnati as the artist in (virtual) residence, developing her Garden of Hope project. Due to the COVID-19 stay-at-home order, all in-person workshops were replaced with online alternatives. Haapapuro plans to incorporate online engagement methods in her future work.
Artist Statement: "I use a wide variety of materials and techniques, and I work with people of all ages and skill levels to create socially engaged/collaborative community art. By sharing my interest in the process of art making and inviting participants to contribute elements to my installations, I hope to bring people together."
---
Umvikeli G. Scott Jones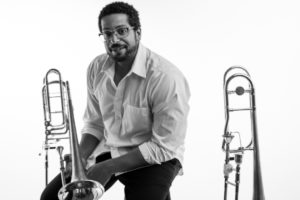 Opportunity: Create an album of original music that blends jazz, hip-hop, and classical styles and features members of the Miami Valley musical community.
About the Artist: Umvikeli G. Scott Jones is a music educator, performer, and composer. He currently serves as Director of Bands at Thurgood Marshall STEM High School and Wogaman Middle School in Dayton, Ohio.
Artist Statement: "My goal as an artist has always been to bring new and meaningful experiences to my audience. I compose and perform from the heart so that listeners may connect to the music in meaningful ways."
---
Colleen Kelsey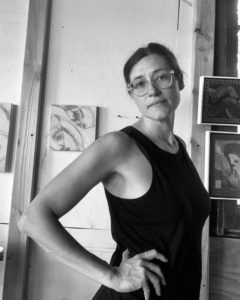 Opportunity: Create a new body of paintings and drawings that explore color relationships in the medium of gouache and oil painting during an artist-in-residency at the A.I.R Studio in Paducah, Kentucky, in the summer of 2021. The artwork is to be exhibited at the Dayton Metro Library.
About the Artist: Colleen Kelsey is a painter and educator who has exhibited her artwork both nationally and internationally, including at the Carnegie Mellon Museum of Art and the Cincinnati Contemporary Art Center. She received an MFA in painting from American University and spent several summers studying painting at the Chautauqua School of Art in Italy. Colleen is a visual art teacher and lives with her husband and their three children in Oakwood, Ohio.
Artist Statement: "Within the paintings I aim to create an inherent light with color sensations where color is experienced psychologically. Color intensity is not determined by saturation but by the context of its surroundings. I aim to create an ideal harmony of unified or disjointed colors from the here and now in a partnership within the narrative. The narrative comes from years drawing directly from the figure and nature and explores the relationship to self, memory and family."
---
Ann B. Kim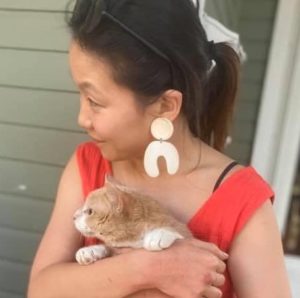 Opportunity: Frame recent work for Build It: Artists Creating Community in Ohio, a four-person exhibition at the Ohio Arts Council's Riffe Gallery in Columbus, Ohio, curated by Erika b Hess, and complete a new body of work, which will be presented as an artist lecture through the Dayton Society of Artists.
About the Artist: Ann B. Kim is a Dayton-based mixed-media artist and art educator who is currently an Associate Professor of Fine Arts and the Chair of Fine and Performing Arts Department at Indiana University East. Born in New Jersey, she grew up mostly in Seoul, Korea, Los Angeles, and Southern Illinois before heading back out to California to pursue her art education. She has a dual BA in art history and art practice from UC Berkeley and an MFA in studio art from Mills College with concentrations in painting and drawing.
Artist Statement: "My interests include cultural migration, fusion, and clash of culture, the way we understand time, history, place, and space. Recently, I have been using the concept of antipodes to connote the sense of opposites in my work, and this interest has brought me to my current series about mapping and how we visualize the world and its implications in terms of the visual dominance we assign to places."
---
Amy Kollar Anderson
Opportunity: Create a large-scale, textured painting on wood panel to explore various paint layering techniques that will result in a new public art portfolio piece to be installed at the Dayton Big Brothers Big Sisters office.
About the Artist: Amy Kollar Anderson received her BFA from The School of the Art Institute of Chicago, and she earned a Master of Humanities, with a focus in fine arts, from Wright State University. Until recently, she was the Gallery Coordinator for the Rosewood Gallery, but she left that position to pursue her art career full-time.
Artist Statement: "The past few years have been focused on playing with materials and combining these experimental techniques with my tightly rendered narrative images. Since I spend most days in my home studio, I am thinking more about personal space and my place in the world. I enjoy layering untraditional materials such as glitter, mica, and metal foils into newly formed surfaces or investigating complex narratives that explore identity, obsession, and transformation."
---
Jeremy Long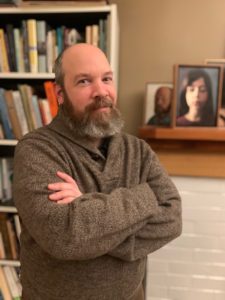 Opportunity: Design and print a catalogue for a solo exhibition at Bowery Gallery in New York City. The local community will be able to experience the work through a special preview exhibition in Dayton.
About the Artist: Jeremy Long was born in Chicago, Illinois. After graduating from the Kansas City Art Institute in 1995, Long went on to receive his MFA at American University in 2000. Today, he lives with his family in Dayton, Ohio, where he is an Associate Professor teaching painting and drawing at Wright State University.
---
Jes McMillan
Opportunity: Take portrait painting lessons from two artists, with very different styles and backgrounds, in order to develop and improve the skills necessary to produce a life-size mosaic portrait.
Artist Statement: "I am a mosaic artist of 22 years with degrees in Industrial Design and Applied Arts. I love my Gem City! Through social entrepreneurship and giving I have been able to transform my artistic process to lead thousands of people, of all backgrounds, in efforts to create large-scale public works. Over the next 10 years, it is my goal and commitment to Dayton to put three sidewalk mosaics in the ground each year. One day Dayton will not only be known as a city of innovation and flight, but as a city filled with interactive mosaic games, created by the communities who live here. We have reached that goal for 2021 already as we are in production of Flight Games (Wright Dunbar), Learn to Earn HOPE gameboard (Omega Campus), and the Unity Gem (Dayton Arcade), all set for installation this summer. Look out for some epic art coming your way and don't miss the opportunities to be a part of it all. Follow the Mosaic Institute on Facebook for more information."
---
Mychaelyn Michalec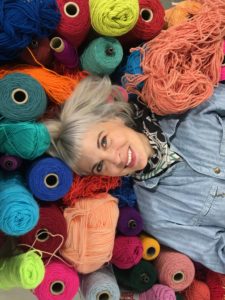 Opportunity: Create and document work for her first major solo exhibition of textile work, which will take place at The Contemporary Dayton and be curated by Michael Goodson.
About the Artist: Mychaelyn Michalec is a fiber artist and painter working in Dayton, Ohio. She earned a BFA with distinction in painting and drawing and a BA in art history from The Ohio State University and an MLIS from the University of Southern Mississippi. She has shown her work internationally and has been awarded residencies at The Vermont Studio Center in Johnson, Vermont, the Sam and Adele Golden Foundation for the Arts Residency in New Berlin, New York, and The Kimmel Harding Nelson Center for the Arts in Nebraska City, Nebraska. Her work has been published in Friend of the Artist, Create! Magazine, and Art Maze. A review of her recent two-person show, Femme Maison at Houseguest Gallery in Louisville, Kentucky, was featured on NPR's All Things Considered.
---
Marsha Pippenger
Opportunity: Create a three-dimensional immersive art installation inside a 20-foot shipping container that will transport viewers to a new metaphysical place as well as challenge and enhance her artistic abilities.
About the Artist: Marsha has been active in Dayton's arts community for more than 30 years, creating and exhibiting her colorful collages and promoting the visual arts. She holds a Bachelor of Fine Arts from Ohio Northern University, a Master of Humanities from Wright State University and is a Kennedy Center certified arts integration specialist. Through Central State University, she completed independent coursework with local artist and educator Bing Davis.
Artist Statement: "I am an artist/maker. I gravitate to color and texture; papier colle, commonly called collage, is perfectly suited to my philosophy of visual expression. It is at once painting, drawing, sculpture, and assemblage. Creating values and dimensions with paper, exploring new materials and combinations of objects to create a unified whole is always an exciting challenge.
With this new work I will be layering together mirrors and mirrors in the shape of trees to create an immersive experience for the viewer. This project is inspired by the Japanese artist Yayou Kusama as well as a piece I created as an example for students in my 3D art class at Kettering College.
As an installation, it too is a combination of sculpture and assemblage only with new and different materials. It is an immersive 'collage' environment in which the viewer will actually walk through the space in a transformative, meditative, emotional experience. My goal is to expand not only my own artistic practice but to grow the viewer's experience as well, allowing them a pause from their daily world and a chance to enter another kind of universe."
---
Countess V. Winfrey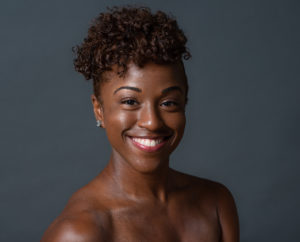 Opportunity: Complete training to learn injury-prevention methods to increase the longevity of dancers' careers.
About the Artist: Countess V. Winfrey began her dance training at the age of 11 at Wharton Arts Magnet Middle School and continued at Nashville School of the Arts before pursuing dance as a minor at the University of Memphis. Countess joined Dayton Contemporary Dance Company's pre-professional ensemble in 2012, which led to a professional dance career with DCDC. Since then, she has performed internationally in Kazakhstan, China, and Russia, where she appeared in two sold-out shows at the world-famous Bolshoi Theatre in Moscow.
---