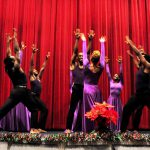 For the past three years, Culture Works has supported a holiday performance at Wright Patterson Air Force Base each December as part of our Focus on the Arts Program.
This initiative has grown each year, and the 2013 performance on December 4, was the best yet! Colonel Cassie Barlow, Base Commander, introduced the artists participating in the program which included Michael and Sandy Bashaw, the Dayton Contemporary Dance Company, and the Carillon Brass of the Dayton Philharmonic performing with the Wright Brass of the USAF Band of Flight.
The audience of more than 350 consisted not only of military personnel, but also the children of many of the military families at WPAFB who homeschool their children.
Plans are underway to continue this program, and for the holiday season in 2014, to simulcast to different locations on the base enabling an even greater number of attendees.