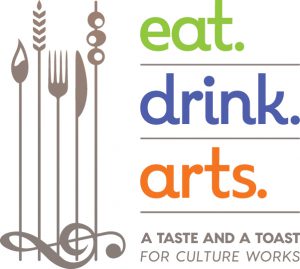 DAYTON, OH (January 10, 2018) – From food and art to live music and wine, you'll find it all happening during Culture Works' first ever Eat. Drink. Arts! "A great meal and an arts performance just naturally go together, and we're proud to pair some of Dayton's finest arts groups with amazing meals all across town," says Culture Works Executive Director Lisa Hanson.
"Eat.Drink.Arts!" in Dayton is a collaborative effort bringing together culinary, visual, and performing artists to cultivate and enhance resources for our visual and performing arts community.
January 16-21, 2018, enjoy creative cocktails, inspired menus, and one-of-a-kind arts experiences at your favorite Dayton-area restaurants. A smorgasbord of area eateries is partnering with Culture Works to satisfy your palate and stimulate your artistic senses—all while supporting local arts organizations.
Join us and raise a glass for the arts. Together, we can keep art and culture thriving in the Dayton Region.
Tuesday, Jan 16th 7pm – Blue Note Bistro & Lounge
Enjoy a meat and cheese plate and bottle of house wine for just $35/couple while you enjoy Deron Bell & Daniel Cook in a dueling piano battle. Request your favorite song and be prepared to sing along. Doors open at 5pm for seating.
Tuesday, Jan 16th- Brixx Ice Company
Dine on an 8oz premium center-cut sirloin grilled to perfection with your choice of two sides while enjoying an excerpt from Dare to Defy's Tommy. Just $15/person
Tuesday, Jan 16th – Christopher's Vegetarian Dinner
Chef Don Warfe will create a three-course dinner featuring vegetarian cuisine. Optional wine pairing for each course. Arts TBA.
$25/person for meal only; $30/person for meal with wine pairing for each course
Wednesday, Jan 17th 6-9pm – Mudlick Tap House
Earth, Water, Fire & Air: A Food & Art Experience
A private four-course elements-themed dinner with select wine pairings!
Featuring a sneak peek of the upcoming DVAC exhibition, Stratum, the artists Amy Kollar Anderson & Kate Huser Santucci will create a painting during the dinner in a lightning round collaboration. $55/person
Thursday, Jan 18th 6-8pm – Texas Beef & Cattle Company
Dine on authentic South Texas-style BBQ while watching The Mural Machine in action! Brisket, Sausage or Pulled Pork Plate (comes with 2 sides) for dinner with banana pudding and tea or lemonade. $20/person
Thursday, Jan 18th 6pm – Old Scratch Pizza
A three-course dinner curated by Chef Nate. This will not be your typical pizzeria dinner! It will include a beverage, a special appetizer, salad, and a unique, arts-themed pizza–paired with music from a classical-jazz crossover quartet with violin, bass, guitar, and keyboard. $20/person
Friday, Jan 19th 6:30pm – Amber Rose Restaurant
Enjoy a four-course dinner paired with a taste of the arts
First Course: Charcuterie Board, Second: Butternut Squash Soup, Third: Smoked Bone-in Pork Chop topped with Cinnamon Apple chutney served with Savory Smashed Sweet Potatoes, Fourth: Chocolate Mousse with fresh berries. Just $35/person.
Sunday, Jan 21st -Table 33
Table 33 has added brunch to the menu. Enjoy an entree with a mimosa/cocktail and a performance by Dayton Contemporary Dance Company. Seatings at 11am and 1pm. $25/person
Sunday, Jan 21st – Dublin Pub
Enjoy brunch, lunch or dinner and 10% of your bill will be donated to Culture Works. Entertainment by Ashley Knapp, a young bluegrass and traditional country artist.
Tickets for all events are advance purchase and available online at cultureworks.org/eatdrinkarts.
About Culture Works:
Culture Works is the funding, advocacy, and service organization that passionately inspires, supports, and sustains arts and culture in the Dayton Region.
# # #