12 Montgomery County artists awarded 2023 Artist Opportunity Grants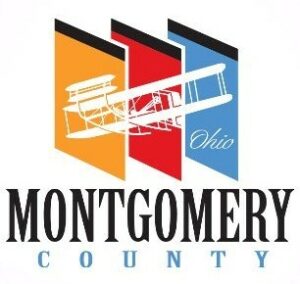 The Artist Opportunity Grant program, which is funded by the Montgomery County Arts and Cultural District (MCACD) and administered by Culture Works, empowers local artists to create new works and build their knowledge and skills through professional development opportunities such as workshops, residencies, and apprenticeships. Grants are awarded through a public process in which a panel of artists, arts administrators, and other community volunteers with relevant experience in the arts evaluate applications and make funding recommendations based on applicants' artistic vision, skill, and experience and projects' ability to impact the artists' careers and community.
After reviewing applications from many outstanding candidates, the 2023 grant panel awarded $34,890 to 12 Montgomery County artists to support projects happening through February 2024. Artists will participate in renowned workshops, host public art-making events, and create sculptural works, collages, dance works, and more.
Learn about the artists and their projects below, and follow Culture Works on Facebook to keep up with opportunities to engage with their work!
---
2023 Artist Opportunity Grantees 
---
Adam Alonzo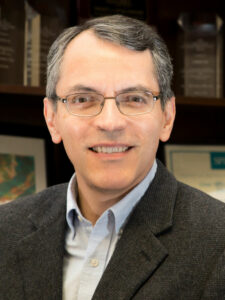 Opportunity: Redesign Alonzo's website so his unique photos of Dayton can be easily viewed by people in the community and beyond.
About the Artist: Adam Alonzo is a writer, photographer, and public radio host from Dayton.
---
Angela Burdon
Opportunity: Create a community-focused photographic portraiture series exploring the complicated relationship between how Black people are presented versus how we imagine ourselves.
About the Artist: Angela Burdon is a Dayton-based artist, using photography, film, and historic ephemera as a tool to reimagine cultural narratives centering Black identity. She received an MFA in photography and an MA in curating contemporary art from the University of Sunderland, England.
Artist Statement: "In 1903 author and historian W.E.B. Du Bois characterized 'double consciousness' as the dividing of Black American identity into two distinct factions. As a means of survival during a racially volatile era, Black people viewed themselves in the context of their own communities but were also forced to anticipate how they may be perceived and judged by mainstream (white) culture. According to Du Bois, blackness has been subjected to constant negotiation, construction, and conflict as a result: 'It is a peculiar sensation, this double-consciousness, this sense of always looking at one's self through the eyes of others, of measuring one's soul by the tape of a world that looks on in amused contempt and pity. One ever feels his two-ness, an American, a Negro; two souls, two thoughts, two unreconciled strivings; two warring ideals in one dark body, whose dogged strength alone keeps it from being torn asunder.' My work examines the struggle to reconcile Black identity while interrogating and ultimately disregarding the notion of 'otherness.' I often attempt to confront this marginalization by using digital manipulation to emphasize skin color as a defiant assertion of Blackness."
---
Stefan Chinov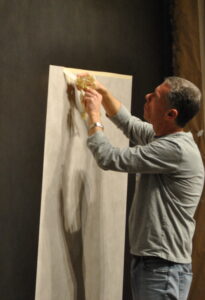 Opportunity: Complete of a series of sculptural works in cast bronze and iron with the help of foundries in the Dayton Region.
About the Artist: Stefan Chinov holds degrees from the National Academy of the Arts in Sofia, Bulgaria, and from Southern Methodist University in Dallas, Texas. His work has been shown across the United States and internationally. He teaches Sculpture at Wright State University in Dayton.
Artist Statement: "While my work is usually derived in stages, I don't think of it in terms of projects. There is a constant flow in which I don't distinguish between an idea and its realization. Even if this cycle appears intermittent— a "project" may transpire to define a perimeter—the studio enfolds it into a continuum. Processes through which materials and forms get transformed, cast, inverted, etc., processes that take place in spaces like foundries and fabrication shops, are all part of this continuum."
---
Lova Delis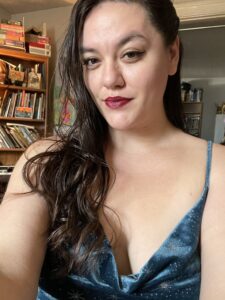 Opportunity: Produce a handful of enlarged collages to amplify visual, social, and emotional impacts within the pieces. These works and more will be exhibited in a solo show at Diad Studio & Gallery at Front Street.
About the Artist: Lova Delis is a self-taught visual artist creating visual poetry with hand-cut collage.
Artist Statement: "I discovered a collage technique I call Analog Glitch. My work has been described as effervescent, timeless, inspiring & feminine. In my collage I use contrasting imagery such as historical and contemporary, digital and analog, sensual and violent, to create a visual poem that challenges society and evokes a new narrative."
---
Alexis Diggs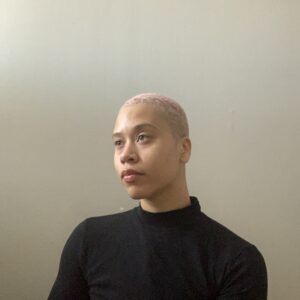 Opportunity: Develop and film five, five-minute-or-less dance works with different stylistic influences to diversify and enhance her choreographic portfolio.
About the Artist: Alexis Diggs is a 23-year-old independent artist/choreographer from Dayton, Ohio. Her central artistic mission is to create and be a part of environments that provoke thought, feed the soul, and ignite a desire to learn, love, and share within the collective.
Artist Statement: As she continues exploring and familiarizing herself with her artistic outlook, Lex is beginning to recognize healing and communal engagement as the fixed variable in the spaces she creates. When a creative process is beginning, the question must be posed: How do we sit at the table with a stranger and share a meal, even when it's hard to swallow?
---
Nicolay Dorsett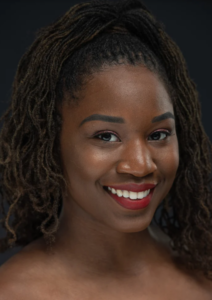 Opportunity: Travel to Becket, Massachusetts, and attend The School at Jacob's Pillow as a part of the three-week-long 2023 Contemporary Performance Ensemble program to further develop her artistic voice in performance.
About the Artist: Originally from South Florida, Nicolay Dorsett moved to Dayton to work as a Jeraldyne Blunden Fellow with the Dayton Contemporary Dance Company after graduating from the University of South Florida in spring 2020. In August 2021, she was promoted to the first company and is excited to be in her third season with DCDC.
Artist Statement: "Facilitating my growth as an artist has always been paramount. My goal is to work with different choreographers and travel around the world experiencing diverse stages and cultures. I desire to be intertwined with dance for the rest of my life; whether I'm performing, teaching, or mentoring/guiding others in dance wellness."

sites.google.com/view/nicolaydorsett
---
Leesa Haapapuro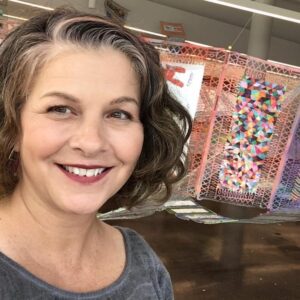 Opportunity: Host a series of free public art-making workshops to create a community art installation illuminating William Carlos Williams' epic poem "Asphodel, That Greeny Flower," which will be exhibited at the Rosewood Arts Center in Kettering.
About the Artist: Leesa Haapapuro, an artist/arts educator, is known for her temporary site-specific installations which invite community participation.
Artist Statement: "The practice of making art is what interests me. By working in an open studio environment, I can communicate my fascination with the process, and share the sense absorption and heightened awareness that I get when I'm involved in my work."
---
Kamal Kumbhani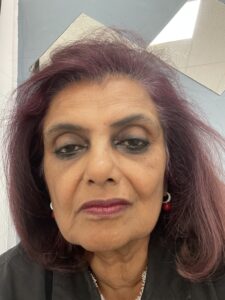 Opportunity: To attend Studio Italia Plein Aire painting workshop in Tuscany, Italy, to improve her plein aire painting technique.
Artist Statement: "Ever since I was a child, I watched my mother paint and thought nothing could be more enriching than using color to create a different world. But Fate had other plans for me; and it is in the last two years that I have attended workshops in art—both at Olde Masters Galleria and online—and really worked toward my goal. I focus on landscapes and portraits and hope to explore different techniques and mediums in the unlimited scope that Italy offers."
"Exploring a new medium is one of the most challenging things in the development phase of an artist. As I'm starting to experiment with new techniques in oils and beginning watercolors, I am struck at the difference in both mediums—yet they converge to explore the mystery of light! I hope that I can work in such a way that my work brings joy to others, just as so many artists have brought me joy through their work."
---
Mychaelyn Michalec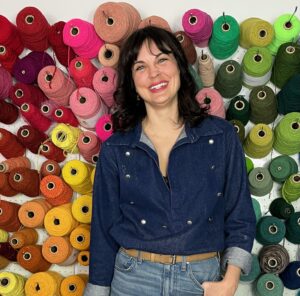 Opportunity: Create work for an exhibition at The Weston Gallery in Cincinnati, Ohio.
About the Artist: Mychaelyn Michalec is a fiber artist and painter working in Dayton, Ohio. Michalec earned a BFA with distinction in Painting and Drawing and a BA in Art History from The Ohio State University and an MLIS in Library and Information Science from the University of Southern Mississippi. She has shown her work internationally and has been awarded residencies at The Vermont Studio Center in Johnson, Vermont, the Sam and Adele Golden Foundation for the Arts Residency in New Berlin, New York, and The Kimmel Harding Nelson Center for the Arts, in Nebraska City, Nebraska. Michalec is a 2021 recipient of an Individual Excellence Award in Craft from the Ohio Arts Council. Her work has been published in Friend of the Artist, Create! Magazine, and Art Maze. A review of her two-person show, Femme Maison at Houseguest Gallery in Louisville, KY, was featured on NPR's All Things Considered. Currently her work is on view at The Bunker Art Space in West Palm Beach, Florida.
Artist Statement: Mychaelyn's work depicts the mundane matters of domestic life, translating documented scenes into textiles within the larger context of art history. The advent of motherhood is a familiar motif in the history of art, but the narrative of women's lives seems to stop there. Moving beyond that, this work is an exploration of midlife women, feminism, self-identity, sexuality, and changing familiar relationships as they move through new phases in their lives.

---
Jennifer Perkins

Opportunity: Travel to Greece (the birthplace of encaustic painting) to collaborate with a Naxian sculptor and participate in a relief sculpture workshop that will enhance her ability to utilize 3D components and traditional 3D methods to advance her current and future work.
About the Artist: Jen Perkins is an Ohio-based artist with a BFA in Fine Arts and Art Therapy. Her work has been exhibited nationally, including multiple projects for The Boonshoft Museum of Discovery, and is part of numerous permanent collections.
Artist Statement: "As an interdisciplinary artist, I create work that is primarily intuitive, inspired by my experiences in metaphysics, the branch of philosophy concerned with abstract concepts such as being, knowing, and time. My current body of work employs the ancient encaustic painting technique, which I use to explore themes of time, ages, and ancestors. My aesthetic employs a range of mixed media, including oil paint, gold leaf, india and alcohol ink, wood, graphite, and plaster, which I layer and manipulate to achieve dimensional awareness and depth of field. My goal is to continue pushing the limits of the ancient encaustic technique, exploring its potential for modern applications, and incorporating 3D elements, such as marble relief sculptures, into my practice."
---
Quentin Sledge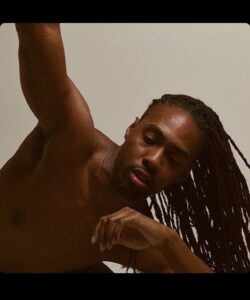 Opportunity: Sledge's project will culminate in a pop-up gallery featuring dancing inspired by locally collected stories centering the lived experience of Black people. The purpose of the event is to facilitate a safe space in which the dancing bodies act as conduits for the life, love, and pain of the community.
About the Artist: Quentin Sledge is a movement artist, choreographer, writer, and painter from the south side of Chicago. He has made a home here in Dayton while traveling and performing with the Dayton Contemporary Dance Company since 2014.
Artist Statement: "My work reflects the ways in which I am inspired by the resourcefulness and boundless creativity of my African/African American ancestors and contemporaries. I often seek to evade respectability politics under the 'white gaze' by zeroing in on that which is truest to the black expression of self, of joy, of community, of divinity and philosophical approaches to life, while refusing to shy away from truth and accountability. As a Pan-Africanist, my work seeks to shake the narratives of who our collective ancestors became as a result of white cognitive dissonance by boldly protesting who we are, who we have been, and who we will always be."
---
Jerome Stueart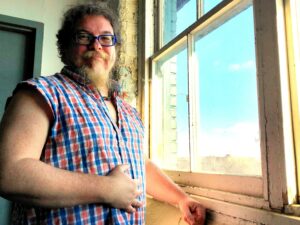 Opportunity: Stueart will participate in a mentorship with award-winning painter Greg Manchess through an online art workshop and level up his painting skills, particularly in the areas of composition and detail. He also hopes to network with other fantasy and science fiction artists who work in narrative illustration. The public is invited to follow his progress on his blog and to visit his open studio hours at Front Street Studios during the project.
About the Artist: Jerome Stueart is fantasy and science fiction writer and former English teacher who did a mid-life left turn to explore his art, now crafting a career of illustrating. His writing has been published in many well-known magazines, and he was once a finalist for the World Fantasy award in short fiction. He recently held a one-man pop-up show at the Dayton Society of Artists before Christmas. In the art show, "The Further (Queer) Adventures of Yukon Cornelius," he borrows a beloved character from a 1964 Christmas special and gives him a whole queer life, helping monsters navigate a world with humans who are a little scared of them. Inspired by the works of NC Wyeth, who illustrated classic adventure novels, Stueart puts bigger, chubbier men in the hero spot, often having fun, rescuing, aiding, laughing, singing, and being in love. When folks see his work, he hopes they see joy.

---