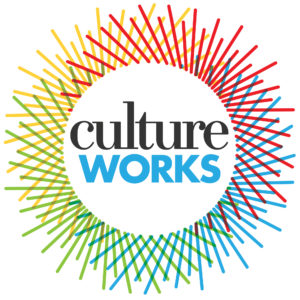 DAYTON, OH (November 1, 2018) – Culture Works has announced a new logo and brand as the organization prepares to enter its 45th year serving the Dayton Region.
"We're looking to the future—not only of our organization, but of the community as a whole," said Culture Works Executive Director Lisa Hanson. "Our vision for the arts in the Dayton Region is one of collaboration, dynamism, and expansion. It's time for our brand to reflect that vision."
The organization revealed the new logo at its annual meeting on November 1st to a crowd of longtime supporters, community leaders, and arts partners.
Over the course of its history, Culture Works has undergone many significant changes, starting out as the Dayton Performing Arts Fund and later merging with the Miami Valley Arts Council to expand into a regional body which advocates for cultural organizations in a broader geographic area. Throughout this evolution, however, Culture Works' core mission has remained the same: Strengthening the Dayton Region through the power of the arts.
Rather than an organizational change of course, the new logo represents an enhancement and expansion of Culture Works' existing roles in the community. In designing the new logo with Catapult Creative, Culture Works staff and board members sought inspiration from the organization's rich history and vision for the future. The intersecting lines represent community collaboration, the myriad ways the arts touch our lives every day, and Culture Works' role as a connector between arts, education, business, government, and individuals. The new color palette represents the vibrancy of our cultural community and the ways in which artists and artistic disciplines feed into and complement one another. Finally, the logo's circular shape represents unity—a unified voice for the arts, a unified Dayton Region.
The new logo is only the beginning. In the coming months, Culture Works will launch a new website, a new video celebrating individual artists in the Dayton community, and a new arts education portal designed to connect the region's educators with transformative arts experiences from local organizations.