Lisa Hanson
Executive Director
Ext. 207 lhanson@cultureworks.org


Lisa Hanson has served as Executive Director of Culture Works since April 2017. Lisa is an entrepreneur, educator, performer, and business professional. Lisa received her Bachelor of Music Education Degree from University of Miami, School of Music in Miami, FL. The focus of Lisa's graduate work was vocal performance and pedagogy at Northeast Louisiana University. An award-winning, classically trained vocalist/recording artist, she has performed in Carnegie Hall as well as internationally. Here in Dayton, Lisa enjoys performing with the Dayton Opera Chorus and as a professional soloist. In addition, Lisa has served as both director and clinician for several national vocal performance workshops. As a public speaker, Lisa speaks on a local, state, and national level on such subjects as community engagement and fundraising.
Though a native of South Florida, Lisa has lived in Dayton for 22 years with her husband Mark and four children. She has served as a nonprofit executive for nearly a decade. Prior to Culture Works, Lisa served as executive director for the Epilepsy Foundation of Western Ohio. Her visionary leadership maximized community engagement over 11 counties, executing key impact strategies to increase the effectiveness of the agency's programs and services. As a public speaker, she was most recently invited to speak at a national conference on growing community engagement through successful fundraising events.
Lisa is a life-long advocate for the arts. She is excited to dedicate her time and talents to advocating for the arts, building support and engagement for Dayton Region's arts scene, and improving quality of life by expanding access to the arts for all citizens of the eight-county service area of Culture Works.
Susan Daly
Development Coordinator
Ext. 202 sdaly@cultureworks.org


Although not originally from the area, Susan Daly is the perfect person to answer the question "What's in Dayton?" Spending many years moving around the United States has given her a special appreciation for the depth and diversity of cultural opportunities in the Dayton Region, and since moving here in 2003, she's been involved with numerous arts organizations, including The Dayton Art Institute, Dayton Opera, WDPR, and Musica, where she served as president for three years. Susan and her family have spent time exploring the Aviation Trail, including the Air Force and WACO museums, hiking the Five Rivers MetroParks (16 of the 19, to date), attending performances at the Schuster, Victoria, and Loft theaters, and enjoying the excellence and oddities of the Dayton dining scene. She holds an M.S. in statistics from George Mason University and a B.S. in business administration and finance from Xavier University.
Karen Maner
Communications & Project Manager
Ext. 204 kmaner@cultureworks.org
A native Daytonian, Karen Maner earned her MFA in creative nonfiction at Eastern Washington University, where she served as the region's Poetry Out Loud coordinator and the assistant coordinator of Get Lit!—a nonprofit that engages the Inland Northwest in celebration of the written word through educational outreach and community events. Since returning to Dayton, she's dedicated herself to organizations that unite the community through storytelling, arts, and culture, serving as a board member and program chair for UpDayton, a volunteer for Dayton Metro Library, and a marketing committee member for TEDxDayton. Her writing has appeared in Best American Nonrequired Reading and Colorado Review and made the Notable Essays list in Best American Essays 2014.
Bill Perry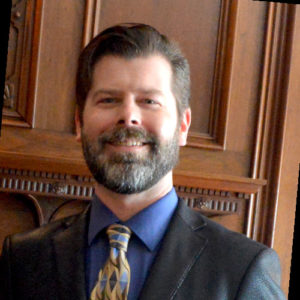 Development Manager
Ext. 203 bperry@cultureworks.org
Bill lived in Texas, Illinois, and England before a transfer to Wright-Patterson Air Force Base brought his family to the Dayton region more than 30 years ago. His creative spirit emerged at a young age, and his parents fostered his interests in writing, photography, and the visual arts throughout his life. When he saw a production of "Once Upon a Mattress" at age ten, he immediately fell in love with musical theater, and to this day he will proudly broadcast Broadway show tunes from his car on his daily commute.
Bill originally attended college with a goal of becoming a journalist, but an internship with a local foundation turned into a nonprofit career spanning nearly two decades. Prior to joining Culture Works, he managed the marketing and communications programs for Clothes That Work, and he held various positions in marketing and resource development at United Way of the Greater Dayton Area for more than ten years.
Bill was named one of the Dayton Business Journal's "Forty Under 40" in 2015, and he has stayed active in our community by giving his time to serve on multiple boards and committees for organizations such as the Association of Fundraising Professionals, the Better Business Bureau, and the Dayton Art Institute. He and his husband JT enjoy an active social life and keep their calendars filled with special events, trips to the theater and our museums, and vacations throughout the country. They own a home in Kettering and share it with two spoiled cats.
Dorie Watts
Manager of Strategic Initiatives
Ext. 205 dwatts@cultureworks.org
Dorie Watts was born in Boise, ID and lived in Las Vegas and her father's native country of the Philippines before settling down in Dayton for most of her life. She has been a resident of the Dayton Region since childhood, earning her B.S. in business administration from the University of Dayton with Summa Cum Laude honors. After dabbling in the business world for a short time after graduation, she heard the call of the skies and became a flight attendant for what she thought might be "a year or two." Over fifteen years of flying all over the world gave her the opportunity to experience and appreciate arts and culture in many different countries, understand the importance of a world view, and learn about and appreciate cultural differences. She continues to travel whenever she gets the chance and thinks you should, too!
Dorie, her husband, Jim, and their three children have lived in the Springboro area since 1999. Her two oldest children are in college at Ohio State and the University of Cincinnati, and her youngest daughter attends Springboro High School.
Dorie has been working in non-profit arts since 2013, supporting fundraising in the workplace, the operational duties of the organization, and managing the strategic aspects of the cultural planning process undertaken by Culture Works in 2015. Dorie is also a longtime volunteer and has served on the Executive Committee for the Springboro chapter of Terrific Women in Giving (TWIG) , which raises a substantial amount of financial support for Dayton Children's each year.
Lisa Arlt, CPA
Finance Consultant
Lisa Arlt, CPA, has more than 20 years of experience in public accounting and claims that she is the "least creative member of the Culture Works team."* Her experience includes financial reporting and NPO representation for a variety of philanthropic and social service organizations in the Dayton Region. A member of the AICPA and Ohio Society of CPAs, she is currently working toward two AICPA nonprofit certifications. She enjoys collaborating with area nonprofits to maximize their funding and make their budgets a livable solution. Lisa volunteers with several local charities for fundraising events, works with wellness advocacy programs, and supports local and national efforts to seek cures for childhood cancer. She loves numbers and uses this passion to support Culture Works in turning the cultural sector into a powerful economic driver for the Dayton Region.
*The Culture Works team has found no evidence to support this claim and believes that creativity takes many forms and is found in all disciplines.